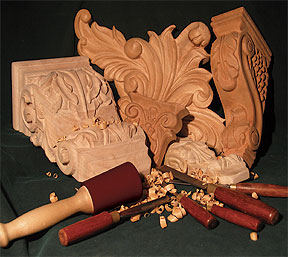 Michael Shea Woodcarving manufactures and stocks 100s of wood carved designs, which include: corbels for kitchen cabinets, wood table legs, legs for pool tables, wood carvings for historic homes, for home, historic preservation, ornamental moldings for kitchen cabinets, wood trim for kitchen designs, trim and moldings for home builders as well as for custom home builders.
We also make woodcarvings for kitchens, and custom furniture, furniture, bar furniture, fireplace mantels, interior designers, home builders, architects, art museums, gothic art, casinos, bars, arches, staircase spindles.
Many architects have used our products for interior designs of hotels, historic homes, wood moldings, wood spindles, newel posts, finials, spindles, trim, decorative corbels, columns, fireplace mantels, renaissance art, onlays, ornamental moldings, and art for everyday. Many interior designers have used our woodcarving in kitchen cabinets and kitchen design, casinos, bars, new home building, interior decorating, custom furniture, galleries, architectural molding, and trim, bathrooms, corbels.


Michael Shea Woodcarving prides itself in making the finest high definition carvings. We take great care in the design of our carvings and sand them to a smooth finish. Our designs include renaissance, Victorian, art nouveau, contemporary, and gothic.
We have a large inventory of about 20,000 woodcarvings that include 100s of designs, with new designs added monthly. We sell our products factory direct, through distributors, interior designers, decorators, home builders, architects, custom cabinet makers, and kitchen designers.